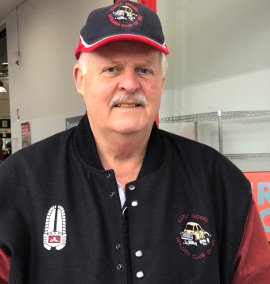 Jim Bishop
Vice President
0419 356 886
fishhooks258@hotmail.com
---
In 1965 age 18 I bought my first car a 1954 FJ Business sedan for 200 Pounds.
As a 2nd year apprentice Fitter and Turner/ Welder in the Victorian Railways, meant there was not a lot of spare cash to spend on repairs or modifications. But I was not alone as most of the guy's I worked with had Early's and working where we did it did not take long to start making our own items, for example: 'H' Pattern Floor Shifts – Traction Rod's — Lowering Blocks and U Bolts.
I did manage to carry out some body modifications because it was mainly labour, and my welding skills came into play. The first modification was a rear roll pan, I knew someone who had a sheet metal workshop and found a piece of 16-gauge sheet steel and curved it on his roller, then I hand shaped it and welded it on recessing the number plate and a reversing light into it. I smoothed over the boot and fitted twin light sets at the rear down low on each side.
I hand made two "Nurf Bars" out of 1 inch steel tube for the rear and fitted them through the roll pan one each side. I also recessed the Radio Arial into the left hand front guard, I managed to pick up an old set of rusted extractors for free re welded them back into serviceable condition and fitted them with a twin exhaust system, I got a set of double valve springs through a mate that worked at GMH and fitted same. I fitted the usual additional Temp and Oil gauges into the dashboard using fibre glass to mould the shape of the housing.
I was able to get the entire car sprayed with black enamel though an insurance claim for body damage, when a "Tarax Drink Sign" fell off a shop awning and landed on the roof of the car badly dinting it, (this was a gift from the heavens).
In approximately 1967 I picked for free a badly rusted (no floor at all) FJ ute for parts, stripped what I wanted and cut up the body with a hacksaw and axe and it went to the tip!! (if only I had known what it might be worth 54 years later). In 1972 I was given another car for free a 1955 two tone special sedan "for parts".
Most of the repairs I carried out were done on the back lawn at home as there was no garage. I replaced the clutch in 1968 using wooden blocks to sit the car on while I did this. This was when I realised how heavy the gear box/bell housing was lifting it while laying on your back but being young and keen it did not matter. Not long after that a broken cam follower resulted in a stripped timing gear, I then borrowed some funds and took the opportunity to have the motor rebuilt.
Easter Saturday 1970 was our Wedding Day on the previous night driving home a front wheel cylinder failed, Easter Saturday I found Repco in Ringwood open and purchased two new wheel cylinders and spent the wedding day morning with my Bestman and Groomsman fitting them, the next day after the wedding Kay and I drove to Surfers Paradise for our honeymoon, with the exception of a new water pump needed on the way home the car did not miss a beat. In the nine years I had the FJ I learnt a lot, if I did not fix it myself, I had to walk.
In 1974 with a young family starting it was time say goodbye to the Early we needed more space, I picked up an FB wagon that needed a paint job and a mates younger brother was just starting a panel shop business, I gave him my 54 and the two tone 55 I still had for a paint job on the FB Sadly back then the Early's were almost worthless.
These photos of my car are when I first bought it, I did not know they existed until five years ago when a friend back then took them and at his funeral his Daughter found them and gave them to me. I happen to be in one of them I am not sure what I was doing at the time?
Unfortunately, the only photos of the car and the rear modifications I carried are on old super 8 movie film, to try and have still photos copied from the old films is quite expensive and there is no guarantee of the quality.