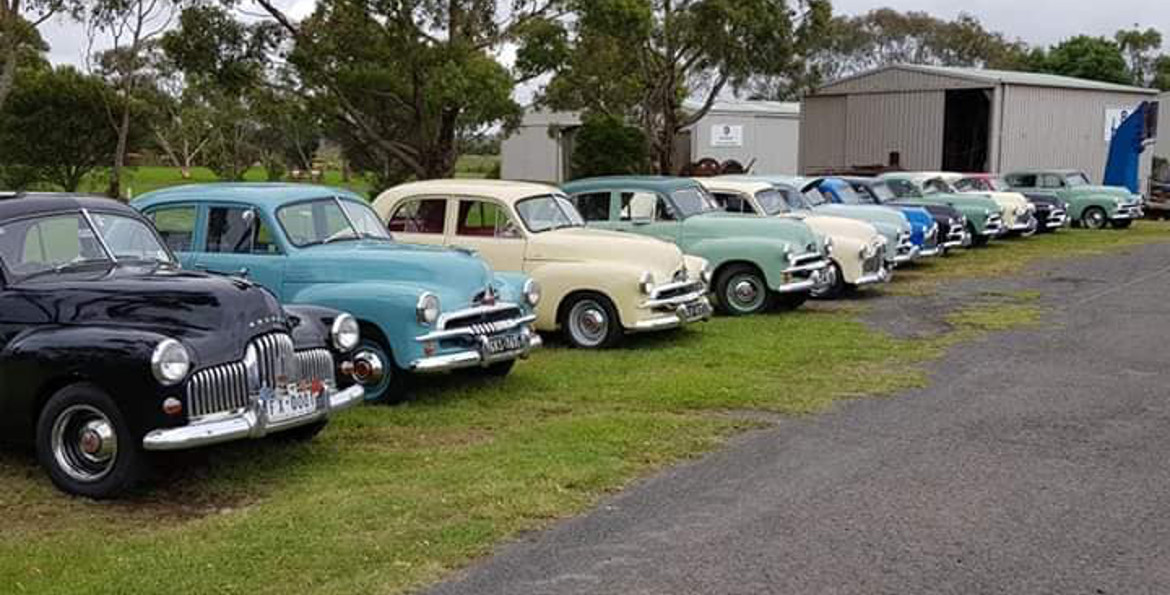 Early Model Holden Car Club
of Victoria Inc.
The Early Model Holden Club was formed in 1970 and is open to car enthusiasts who own 48-215 and/or FJ Holden's (1948 – 1956). The club is a non profit organisation and is run by its members.
We encourage all people who own an early to join. It does not matter what condition your car is in to join the club. There are many potential members out there who believe that their car is not good enough to be in a club. Many members drive an early as their family or work transport.
Our Next Club Meeting is
Date/Time
Event
06/05/2020
8:00 pm - 9:30 pm
Club Meeting
Club Rooms, Glen Waverley, Victoria
Our Next Club Run is
No Events
Club Cars
Peter Corrigan FJ Sedan
Information about Peters Car coming soon.
coming soon
coming soon
coming soon
Bruce Graham
Information about Bruce's Car coming soon.
coming soon
coming soon
coming soon
Scotty's FJ sedan
Scotts 1954 FJ Special, Purchased in 2011 and a 6 year restoration so far , highly customized all around with multiple accessories..
Worked 138 bottom end with overbore.
Extensive head work, extractors & 2" exhaust
Triple SU carburettors on armours manifold
Custom themed interior, silver, candy red and black.
Laced candy red roof with jet black lower paint.
Custom bonnet emblems and rear stoneguards.
Custom 66 litre stainless fuel tank.
Lowered suspension 2.5" all around.
Widened standard rims in candy red paint.
Richards FJ Van
Richard purchased the van in 2009, as a rolling shell. The body mods were done in the 90's, the steel one piece tilt front has a FX bonnet with louvres welded to two FJ guards, one piece glass in door, roll pan and one piece rear tailgate.
As a commercial it's running steel rims with no hood ornament. It's powered by a 350 Chev, aluminium heads on straight gas with a Turbo 350, independent front suspension and a 12 bolt diff out of a Chevy Nova with a full stainless exhaust. I think the only things stock on it are the exterior door handles, cowl and headlight buckets. .
Big Trev's FX sedan
This FX sedan is owned by Big Trev. It was bought in 2005 from Traralgon, Victoria and was rebuilt in mid 2008 and took two years to complete.
running a 138 grey motor
a yellow terra head
twin carbies
standard running gear
Color is Mercedes Benz taxi cream with a mild silver pearl
Red leather trim.
Club Aim
The promotion and use of Early Model Holden cars.
The obtaining of motor parts suitable for installation in Early Model Holden's on behalf of financial members of the Club.
To encourage members in the restoration, preservation and/or modification of Early Model Holden's.
To encourage the use of Early Model Holden cars by the promotion of rallies and the giving of prizes and by any other means which may from time to time be determined by the Club.
To encourage activities which are informative and to promote social functions for Club Members.